We are now upgrading all our website's pages to fully conform to the new UK law. For now, some pages may not be available for you to visit. Please bear with us.
Break Da Bank Slot
Break Da Bank is a online casino three reel slot. It is a five payline and five coin slot machine. The game is powered by Microgaming software and has high quality graphics. The game is easy to play and is a highly intriguing game filled with drama and suspense. The symbols on Break da Bank online casino slot reels are Bar, $ and Break da Bank wild symbol.
Rules
Break da Bank game has a wild symbol. It substitutes for any other symbol to complete winning combinations at the online casino. It also acts as a multiplier symbol. Its appearance in a winning combination multiplies the payout. The player wins double the payout with a single appearance of the Break da Bank wild symbol if it appears in a winning combination. Two Break da Bank wild symbols on an enabled payline of a winning combination pay four times the payout amount. Three Break Da Bank symbols create a winning combination and do not multiply the payout amount.
The payout is based on the symbols displayed on the machine when the reels come to a stop. The payout is as coins. The credit amount is determined based on the coins bet for each payline. The win amount is the number of coins won multiplied by the number of credits bet per payline.
Payout Table for Break Da Bank Online Casino Five Reel Slot Game
| Combination | Coins Won |
| --- | --- |
| 3 Dollar symbols | 160 |
| 3 3-Bar symbols | 80 |
| 3 2-Bar symbols | 40 |
| 3 1-Bar symbols | 10 |
| Any 3 Bar symbols | 5 |
| Enabled Payline | Odds |
| --- | --- |
| Payline 5 | 2,400 |
| Payline 4 | 1,600 |
| Payline 3 | 1,400 |
| Payline 2 | 1,200 |
| Payline 2 | 1,000 |
---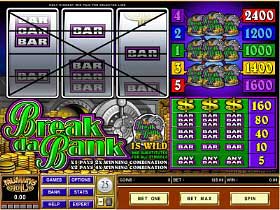 ---
More Articles