We are now upgrading all our website's pages to fully conform to the new UK law. For now, some pages may not be available for you to visit. Please bear with us.
Fruit Fiesta
Fruit Fiesta is a three reel slot. It is a three coin three payline online casino slot game. It is very attractive game. It has a fruity theme with a colorful and attractive graphics and layout. It has three paylines and this increases the players' chances of winning.
Rules:
It has a Progressive Jackpot and gets activated only when the player bets the maximum of three coins. Progressive Jackpots can only be played by players holding a Real Account. Progressive Jackpot prize amount is constantly accumulating. The value of the Progressive Jackpot amount at a particular time is displayed in the game. It is displayed as credits and not as coins. The Progressive Jackpot is won when three Fruit Fiesta symbols line up on the third enabled payline. All players worldwide is informed as and when a jackpot is won and the Progressive is then set back to the fixed minimum value.
As in some other slot games, Fruit Fiesta Slot also pays out for other combinations. But the payout is incomparable to progressive jackpots. The payout is calculated based on the highest paying combination in each payline. This payout is dependent on the symbol which appears on the payline as the reel comes to a stop.
The Fruit Fiesta is a wild symbol and replaces other symbols to form a combination on any enabled payline.
Payout Table for Fruit Fiesta Three Reel Online Casino Slot:

| Combination | Coins Won |
| --- | --- |
| 3 Striped Seven symbols | 500 |
| 3 Purple Seven symbols | 300 |
| Any 3 Seven symbols | 150 |
| 3 3-Bar symbols | 100 |
| 3 2-Bar symbols | 80 |
| 3 1-Bar symbol | 60 |
| Any 3 Bar symbols | 40 |
| 3 Pineapple symbols | 30 |
| 3 Plum symbols | 25 |
| 3 Orange symbols | 20 |
| 3 Watermelon symbols | 15 |
| Any 3 Fruit symbols | 12 |
| 2 Fruit Fiesta symbols | 10 |
| 3 Bell symbols | 8 |
| 1 Fruit Fiesta symbol | 6 |
| 2 Bell symbol | 4 |
| 1 Bell symbol | 3 |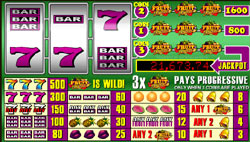 ---
More Articles