We are now upgrading all our website's pages to fully conform to the new UK law. For now, some pages may not be available for you to visit. Please bear with us.
Wow Pot Progressive Slot
Wow Pot is a Microgaming Online Progressive Slot game. It is not complicated and is a simple slot game. The game is the best one for a player beginner in Slot. It has a simple format. WowPot is a three reel, single payline and three coin slot machine. It has the standard slots symbols like 7's, Bars and cherries.
Rules
Wow Pot has a wild symbol. This symbol substitutes for any other symbol to complete the winning combination. But it acts as a wild symbol only if the player bets three coins. It also increases the payout with its presence in a wining combination, thus acting as a multiplier symbol also. If a winning payline has a single WowPot symbol, then the Payout it completes its doubled. Two WowPot symbols pays out four times the payout of the winning combination. Multiple Wow Pot symbols on the activated paylines with winning combinations are paid out according to the payout table. If a WowPot symbol appears on the reels without completing a winning combination, then the online casino pays 10 coins for a single Wow Pot symbol and 20 coins for two WowPot symbols
Wow Pot has a Progressive Jackpot. The Progressive Jackpot is activated only if the player bets the maximum bet of three coins per spin. A player wins if he bets three coins and three Wow Pot symbols line up on the payline. Progressive Jackpot is constantly accumulating and the value increases every time a player plays the game. The current value of the jackpot is displayed on the game. This value is displayed on the screen as credits and not as coins. The Progressive jackpot is available only to the players playing with a Real Account. When a player wins the jackpot, players in round the world is informed and the Jackpot is reset to the fixed minimum value. The jackpot minimum amount is $1000. The highest ever jackpot won at WowPot at Online casino is 101,707 Dollars.
Payout Table for WowPot Online Casino Progressive Jackpot Slot Game
| Combination | Coin 1 | Coin 2 | Coin 3 |
| --- | --- | --- | --- |
| 3 WowPot symbols | - | - | Progressive Jackpot |
| 3 Striped Seven symbols | 500 | 1,000 | 1,000 |
| 3 Red Seven symbols | 80 | 160 | 160 |
| 3-3-Bar symbols | 30 | 60 | 60 |
| 3 2-Bar symbols | 20 | 40 | 40 |
| 3 1-Bar symbols | 10 | 20 | 20 |
| 3 Cherry symbols | 10 | 20 | 20 |
| Any 3 Bar symbols | 4 | 8 | 8 |
| 2 Cherry symbols | 2 | 4 | 4 |
| 1 Cherry symbol | 1 | 2 | 2 |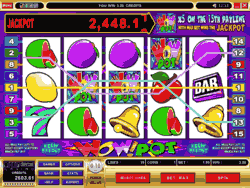 ---
More Articles